14.07.2016
Hello everyone
To kick of the summer competition season we had our first Wave contest of the year in Gran Canaria during the Wind and Wave festival at Pozo Izquierdo.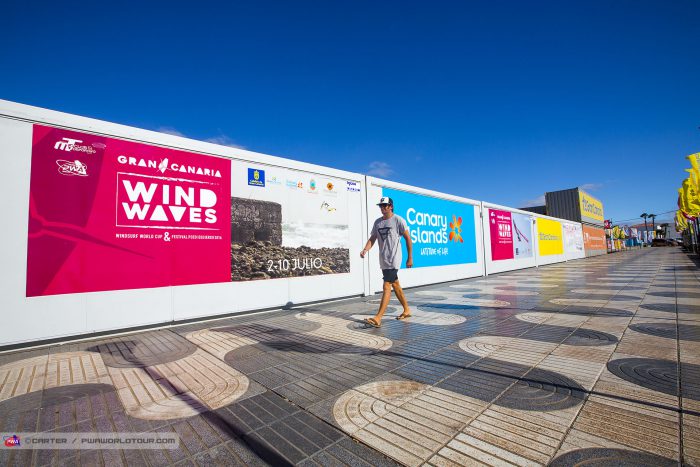 Pozo is probably one of the windiest places in Europa with almost 35 knots to 45 knots most of the days. A day with lighter wind usually still means, it's 4.4m weather (a stronger day at home). However this strong wind doesn't mean it always brings waves with it. Last year was my first year competing on this event and the waves where absolutely pumping. Because you always need to get used to the spot a bit, I arrived about 2 weeks prior to the event to get used to the rough/windy conditions.
Because Australia wasn't that good this winter I was a bit worried about my level. But thanks to all the sessions I had before the event I was more than pleased with my sailing and definitely wanted to give my opponents a run for their money during this event. After 5 days of a waiting game (with a lack of waves) we finally could start the competition on the 6th day.
Due to the lack of good waves the judges decided that only 1 wave ride would count together with 2 jumps, not really something what helps me because my riding is definitely b
etter than my jumping. In my first heat I was against Danny Bruch (number 4 of Gran Canaria last year and 9th in the world), which was going to be hard, but possible. I sailed the best I could and managed to get 2 wave rides where I could do a front side Wave 360 on but couldn't really find a way to connect them with more turns.
Besides one wave ride where I did a Wave 360 but crashed a backside Wave 360 just at the end of the wave. This was a bummer because in the end it proved to be the difference between winning and losing. I only lost by half a point against Danny who outclassed me in the jumps. A missed chance but in the end I came out of the water with a smile on my face and I was really happy with my sailing and knew I had to try to come back in the double elimination.
Sadly enough I had the hardest heat in the whole first round of the double elimination, meeting Klaas Voget (number 10 of last year). Klaas is a very good competitor, what made sure I needed to sail my best heat to be able to advance into the next round.
With the wind getting super strong but the waves getting even smaller it was really hard to find good waves. Because I started with 2 of my best wave rides I didn't thought I needed to improve on my wave riding score anymore. Sadly enough the scores weren't enough and Klaas got the best wave of the heat.
Although I got the highest score on my first jump, I couldn't really find another ramp to improve my second jump. After spending 4 minutes to find just one ramp to jump of it was really hard for any of us to show what our real skills where. Although I was really bummed to lose against Klaas, I've been more than happy with my sailing. Knowing I had one of the worst draws I could've had, I'm already looking forward to the next competition in Tenerife for the waves with hopefully 2 wave rides and 1 jump counting for the scores. And hopefully I can cause some upsets there!
But before its time for Tenerife I will first step back in to Freestyle gear and head for Fuerteventura. There I will compete in the 2th stop of the Freestyle competition, which starts the 22th of july.
Hope to see you there, or follow me live during the competition on, www.pwawoldtour.com
Cheers Dieter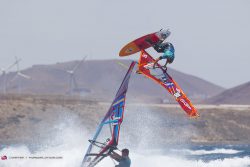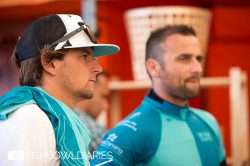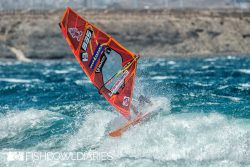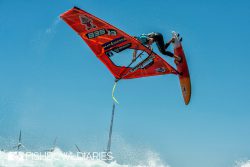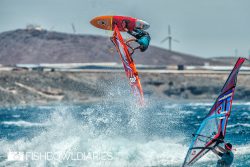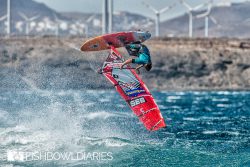 back