08.12.2016
Hello Everyone
A bit more than a week ago I landed in one of my favourite places in the world for my training towards next season W.A. . This is probably the most fun time of the year. Because I've been coming here for the last 4 or 5 years, it always feels a bit like coming home thanks to the warm welcome of the local people I met over the years in W.A. .
Traveling to Australia with gear is always a bit of a hassle as the rules of the airlines flying towards it change quite frequently. After checking different flight and companies I decided to fly with Garuda Indonesia for the first time thanks to their amazing policy considering 23 kg of free sports gear on top of the already 30 kg of free luggage. More than enough for most windsurfers to take most gear needed for a trip in W.A. without paying anything extra; on top of that, the prices of the flight itself are some of the lowest on the market.
The only problem you face as a professional windsurfer, especially doing two disciplines you usually take up to two times as much gear as other sailors making me go way above the 53 kg of free gear. So after booking the flight I called their help center and explaining my situation. I got informed they would help me out a bit but I should be aware they would charge 60euro/kg in case I was too far over the limit. Something I didn't count on so after making the bags a bit lighter I arrived at the airport with 2 bags of 32kg already worried about how much I had to pay extra (one of the main reasons I hate flying!). As I arrived, they allowed me to skip most of the line to check in the bags (one of the few positive things about flying with so much gear), after weighing all the bags the supervisor came said it was oke and before I knew it I was checked in without paying anything extra!! On top of that I got on all my flights the seats with extra leg space and enjoyed one of my most relaxed travels to Australia!! So I would definitely say it's worth to check them out if you're thinking about flying to Australia, especially if you travel together with someone who doesn't sail (as than you can use their 23kg for your extra bags 😉 ) !
So enough about the amazing flight here, how was Australia itself the first week? Well pretty much perfect wind wise, although the swell has been pretty small I have been able to go on the water nearly every day till Thursday. One session in Perth on the freestyle gear before going to Geraldton and sail my favourite spot. Geraldton, for training allowing me to train both Freestyle and Wave on one spot. For my wave sailing I'm mainly working on my jumps, this has been a bit of a struggle last year and one of the points I want to improve a lot on over the next few weeks. Sadly enough I got a bit too excited on Thursday on them making me land really flat on a tweak push loop and injured my knee a bit keeping me of the water for few days. Nothing to bad but considering it is only the beginning of the trip I made the decision to rest it enough before going on the water again.
I have been back on the water the past 2 days and going to hit some wave right now!! Swell has kicked in!
All the best,
Dieter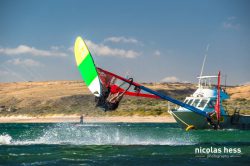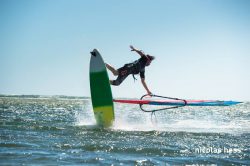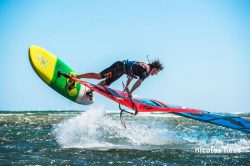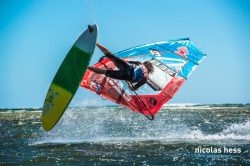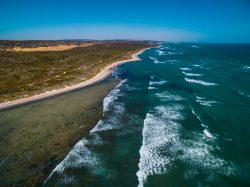 back