15.08.2017
Hello everyone
Last week we had the 3rd stop of the PWA tour in Tenerife. With a firing forecast I was excited to do good in this event. Sadly enough things didn't really go as planned losing some close heats and finishing with my worst result in the last 12 months in Wave.
Sometimes you have to take 2 steps back to make steps forward again in the future. I have known for a while now that my waveriding is on point but my jumping isn't what it has to be yet. After Fuerteventura I was hoping to improve a bit on this in Gran Canaria. Sadly enough I hurt my knee on the first session I did. This meant almost a week of rest and as less jumping as possible before the contest started… Not what I was hoping for, but things could have been a lot worse as well. Luckily I didn't have to much pain when waveriding before the contest.
With the forecast being good the second half of the week I still had a few days to rest my knee and got used to the bigger gear. I managed to get a few freesailing sessions in and felt more and more comfortable towards the competition that would start on Wednesday.
In my first heat I faced Jules Denel which ended in being a super close heat. The wind got very light in this heat and instead of being on 4.0 like in my warm-up I was underpowered on my 4.8 in the heat. I had a good and average wave making me win on waveriding but sadly enough Jules scored 1 point more on his jump making me lose the heat by 0.3 and set me up for hopefully a comeback in the double.
After having a bypass from the first round in the double I was straight up against Marc Parez. The wind was strong and the waves where the best I've seen them in a while at Cabezo. Being super motivated to pass this heat and hopefully sail more heats in those perfect conditions I started of well with a 7+ point wave but yet again struggled to find my jumps. After my double I broke my front footstrap as well and had to come in to change board. In the end I couldn`t get a good backup wave and scored poor on my jumps which made me lose the heat against a very well sailing Marc (who climbed all the way up to 9th!) and left me in a disappointing 25th place..
It might be bad for my overall this year but in the end I probably learned more out of this experience than when I would have done better with average jumping. It feeds me with new motivation to really start pushing my jumps to a competition worthy level, so that I can comeback stronger than before next event and mainly next season!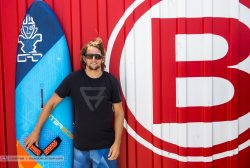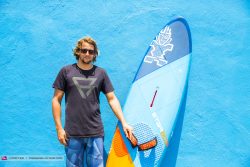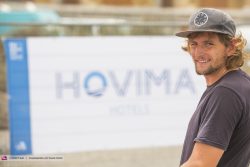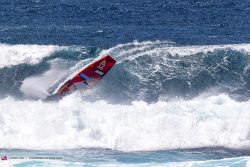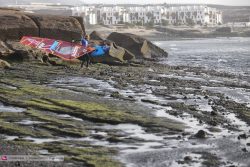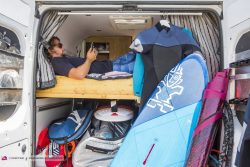 Now I have another 4 days left before I start my trip back home and get ready for Sylt end of September. In the mean time I will be pretty busy with visiting the European Surfweek for Handicapped people and organizing my Intro into Surf Clinic end of this month at Brouwersdam.
Aloha,
Dieter
back